PUPPY TRADE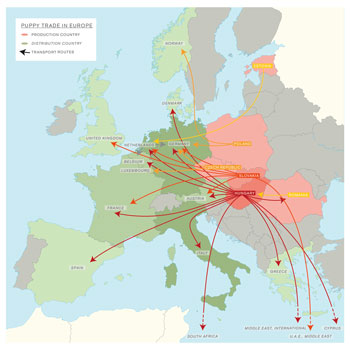 Copyright VIER PFOTEN international
The puppies are often sick, malnourished, totally exhausted and have false papers. In this state they are transported in vans clean across Europe and then offered for sale to wealthy buyers. Four Paws (Vier Pfoten) International ascertained this over many months and discovered many of the wheelings and dealings of these lousy dog traders.
"Take two and pay half the amount per puppy!" – A young woman who is holding two Yorkshire Terrier pups in her arms goes all broody. Why not buy them? They're so sweet and it's so convenient to take two. On another stall a notice hangs prominently " All puppies with genuine papers." Genuine? From which organisation then?
There is a strong smell in this Market hall in France. The Puppy Room, which has been plastered with notices everywhere for days, has attracted innumerable innocent families from the area. They want to look at the puppies, maybe even buy one. There are so many to choose from, and you can pop one under your arm and take it away immediately. Joy for the whole family, but not for the poor creatures, which crouch here in their cages in their hundreds. Shar Peis, Chihuahuas, Dogue de Bordeaux, Owtscharkas, Malinois, Bernese Mountain Dogs, French Bulldogs, Hunting dogs etc. Puppies of every  breed can be seen here being sold like mass-produced goods on a production line.
Unbearable Stench
When confronted the supposed breeders react indignantly. The puppies are from the best homes, lovingly reared and anyway 12 weeks old. The fact is many are only just 7 or 8 weeks old. Some have sticky eyes and runny noses. The majority are dog-tired or cower lethargically in a corner. The stench emanating from these small bodies – despite the clean paper strewn in the cages – is unbearable. It has to stem from the place where they originate and has impregnated their coats.
About 20 white vans are parked outside the hall. A glance at the number plates show they come primarily from France and Belgium. It certainly doesn't look as if these puppies come from small, loving breeders. Up to about 25 dogs of various breeds, are carted around in cages with no exception in these vans.
Many Sick Puppies
The puppy trade in Europe is booming. Not the serious breeders but the nasty "businessmen". Traders with their white vans transport puppies from Eastern Europe over the borders. The animals originate from puppy farms in Hungary, Poland, Slovakia and Romania. The buyers live in Germany, Holland, Belgium, France, Spain and Italy. However, it is seldom that any joy awaits these puppies. Many of the dogs are sick,; have disturbed behaviour and false paperwork. Just how bad the trading of sick puppies is in Europe is revealed through a recent study by the charitable private foundation Four Paws (Vier Pfoten).
Professional Trade
The study shows that the professional trading of pedigree dogs has been increasing over the last five years. The attraction of this business is " It's an easy game with huge profits!" Therefore, the traders are unscrupulous and will drug puppies with medication, pack them into vans and then cart them right across Europe. An exception? Not at all! Four Paws is speaking about trading on an industrial scale, and demands stricter laws in order to take legal action against these despicable dog traders and the vets who cooperate with them.
International Trade Agreement
A year ago Four Paws hired an investigator who infiltrated the European dog trading community. There followed eight months of enquiry involving 50 different places which play a role in the European dog-trading network. The investigator discovered 30 international trade connections.
The majority of these pitiful puppies originate from the Czech Republic, Hungary, Poland, Romania and Slovakia. There the prices are low and the absence of any pertinent law fuels the trade in pedigree dogs. As a  comparison, a registered puppy with the Austrian Kennel Club (OKV) costs about 1200 euro and one registered with the German Kennel Club (VDH) is about 1000 euro. In the Hungarian market one can get a pedigree dog for under 200 euro.
Corrupt Vets
The rest is a matter of simple arithmetic. Transportation of 20 – 25 puppies is worthwhile for all participants. The profit is about four times the initial outlay. The conclusion of this awful trade is simple: a trader either works in cooperation with different breeders or even breeds themselves. As soon as he has an order, he packs the puppies together with false registration papers, and vaccination and microchip documents from a vet. Then it's off in the white van on the grand tour. Four Paws has ascertained that this often ends in the Netherlands, which plays a crucial role as a transit country. This fact, which can also be compared to Germany and Belgium, has its roots in the weak Dutch laws for dog breeding.  In Holland the East European microchips are removed and replaced with Dutch ones, which apparently, improves the chances of a sale. The puppies are then offered for sale often via the Belgium Internet sites.
Massive Breeding Measures
Romania is the transit country between Hungary and Italy. Four Paws has discovered puppies for sale in the Romanian Zoo shop coming from Hungarian puppy farms. Many of the puppies are too young to be sold and are sick. Worms, and other parasites, inflammations, distemper and parvovirus are the order of the day. Four Paws estimate that 15% of the puppies transported through Europe have no legal paperwork. 52% of them are sick. Following a study by the English Kennel Club Four Paws have been informed that 1 in every 5 of these puppies die before they are 6 months old. Add to this the increased risk of rabies, a deadly, life-threatening disease for both humans and dogs almost eradicated in Western Europe. At the moment though it is threatening to flair up again through these importations from the East. Four Paws knows of two illegally imported puppies which having died of rabies in the Netherlands. In order, but not only, to prevent this danger Four Paws places small adverts on EBAY which warn about internet dog sale sites and in particular about the risk of illegal dog trading. The German Kennel Club (VDH) has reached a significant agreement with the organisation Your Animal World. Through their Internet sites they are supporting the campaign against puppy trading.
100,00 Puppies per Year
However, that is not enough. More must be done to end this disgusting trade. At present around 100,00 puppies are bred annually in the worst conditions on puppy farms in Eastern Europe. Four Paws' investigator revealed that the puppies on these farms exist under the most terrible conditions. The dogs are kept in the dark in tiny, filthy cages. Many are malnourished and dehydrated. It is the bitches which are their main focus, having litters up to three times a year which they are then too weak to care for themselves. Four Paws assumes from this that they are kept until they are 4 or 5 years old when they are then either killed or sold on to laboratories for experimentation purposes.
What Could Help?
In order to bring an end to all this Four Paws suggests better information be available. Prospective buyers should be aware of the misery that hides behind this trade and what dangers can result from it. There should also be a standardised law through which breeder registration and breeder licensing is compulsory together with a licensing system.. Only it this way can we hope to close the loophole forever which makes such puppy farming possible.
Author : Gabriele Metz
Published in Unser Rasse Hunde Aufgabe 07/2014
Translator: Jackie Mavro-Michaelis
Links:
http://www.wuehltischwelpen.de/
http://www.gabrielemetz.de/indes.php/de/
.